We had so much fun visiting my friend Brian in Florida last weekend (April 30-May 3). The weather was so great. We went to the beach and laid out and played in the ocean a little. We went on a tour of the base that Brian works at and just spent a lot of time relaxing. We drank, ate, and slept and it was so nice. It was nice to have a relaxing vacation, normally we try and pack as many activities into our trip as we can so we end up coming home completely exhausted. I didn't take as many pictures as I wanted to, but I did get a couple of pretty shots while I was there.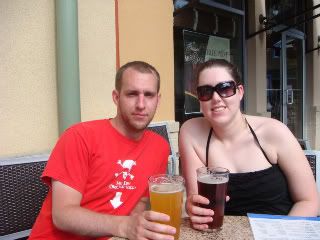 We have a pretty full weekend coming up. On Thursday, Greg and I have to take off work and take Izzie to Richmond for her surgery. Friday we are going to Sips Wine Bar on the downtown mall to see a performance put on by Shergold Studio, which is the studio that I go to for my pole dancing class. They will have guys and girls strip dance routines and I'm really looking forward to going. Saturday we are going to a bbq at one of Greg's coworkers house. And Sunday I'm going to a Tastefully Simple party thrown by a girl I work with. I feel like all I've done lately is work and hang out around the house, so it's nice to have a busy weekend coming up.
I hope everybody had a nice Mother's Day!