I got this recipe from one of my favorite blogs, Kevin and Amanda (kevinandamanda.com). I've tried a couple of her recipes and they always turn out delicious. I decided to make a healthy version of this recipe and it actually turned out very well. I used brown rice instead of white rice and I substituted smoked turkey sausage instead of regular smoked sausage. It was so quick and easy to make.
Here's the turkey smoked sausage I used-
Ingredients
* 1 cup of long grain white rice (I used brown rice, instead)
* 2 cups hot water
* 1 tsp salt
* 2-3 tablespoons extra virgin olive oil
* 1 pkg (14oz) smoked sausage
* 1 can of red beans
* Creole Seasoning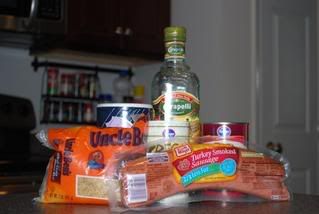 Add the rice, water and salt to a saucepan with a lid. Bring to a boil, reduce heat to low, then cover and simmer for 15minutes. Meanwhile, thinly slice the sausage and drain the juice form the red beans into the sink. Add 2-3 tbsp olive oil to a large skillet and begin heating over medium heat. Add the sausage, give a sprinkling of creole seasoning and stir occasionally for about 7 minutes until the sausages start to get sizzly on both sides. Add the red beans and stir until warmed through. About this time, your rice should be done, too. Serve the beans and sausage over the rice. Add extra creole seasoning as desired at the table. Serves 2-3.