I got this recipe from Kelly's Recipes (kellyskornerrecipes.blogspot.com) I've been wanting to try it for awhile and I'm glad I did. It's delicious. It goes perfect with rice. I went to the grocery store on Sunday and bought enough ingredients to make 3 new recipes this week, so hopefully they all turn out good so I can post them on here.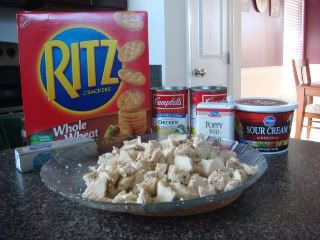 * 2 or 3 chicken breasts, cooked and cut into small pieces
* 1 16oz container of sour cream
* 2 cans of cream of chicken soup
* 2 tablespoons of poppyseeds
* Ritz crackers
* 1 stick of butter
Mix the first 4 ingredients and put into a baking dish sprayed with non-stick cooking spray. Cover with crushed Ritz crackers. Melt a stick of butter and pour over top. Bake for 20-30 minutes at 350.