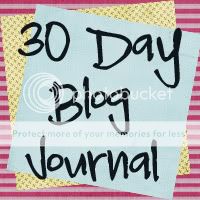 I've been such a slacker on the 30 Day Blog Journal, we've been trying to get all the last minute things done because the boys will be here on Wednesday! I knew this would be a hard month to do this, but all I've blogged about lately is my pregnancy and I wanted the excuse to blog about something else. So, here's days 9-14.
Day 9- A Photo You Took.

This was just a day or two after I got my first digital camera and was finally able to take a picture of a sunset. They would never turn out on my 35mm cameras and I was so proud of this picture when I took it.
Day 10-A photo taken over 10 years ago

This is a picture of me in high school. We were in Tennesee for my grandparents anniversary party.
Day 11- a recent photo of you
This was taken last month while we were at a vineyard buying wine for an engagement party. Greg tried some dessert wines for me and bought a bottle that we could share after the boys get here.
Day 12- Something you are OCD About
I'm am ocd about germs. I wash my hands constantly. I will not use anybody else's pen, I keep several on me at all times. Even at work, I have MY pen that I carry around with me everywhere and when patients start to reach for it I have to say "no, no--this is my pen you may not touch" I use alcohol pads to wipe down somebody else's computer/mouse/phone etc before I can use it. And if anybody has used my computer, I have to disinfect it. Nobody but Greg is allowed to take a shower in our shower, the thought of somebody else's feet touching my shower floor grosses me out to no end. If something were wrong with the the other showers in our house, our guests would have to go to a hotel. I cannot place my face on anything that could have possibly had somebody else's face on it, like a pillow. There is no exception for family, it still grosses me out. And my biggest pet peeve of all time is when people lick their fingers before going through a stack of papers that I'm going to have to touch--it's so GROSS!!! I could go on and on about being ocd about germs. My goal is to not be crazy about germs with the boys, I don't want them to grow up being as crazy as I am about germs.
Day 13-A Fictional Book

Bergdorf Blondes by Plum Sykes. I love this book, it's cute, funny, and easy to read.
Day 14- A Non-Fictional Book
A Mighty Heart by mariane Pearl. It's the story of how her journalist husband was kidnapped by terrorists and murdered. It's very sad and I think the book is so much better than the movie.