I saw this recipe on thepioneerwoman.com and thought it looked delicious. It uses fresh ginger, which is one of my favorite ingredients, so I had to try it. I made a few little changes--for example, I tried to use extra veggies and replaced regular pasta with wheat pasta to make it even healthier. Greg does not like to have a meal without meat, so I made some teriyaki chicken to go with it. Greg and I both loved it.

SALAD INGREDIENTS:
1 packages linguine noodles, cooked, rinsed, and cooled (I used wheat noodles)
1/2 to 1 head sliced Napa cabbage
1/2 to 1 head sliced purple cabbage
1/2 to 1 bag baby spinach
1 red bell pepper, sliced thin
1 yellow bell pepper, sliced thin
1 small bag bean sprouts (also called "mung bean sprouts")
3 peeled, sliced cucumbers
LOTS of chopped cilantro—up to one bunch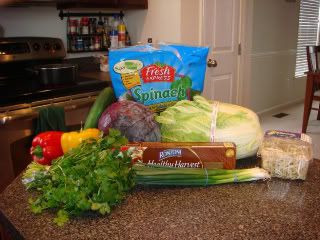 DRESSING
Juice of 1 lime
1/2 cup of olive oil
2 tablespoons of sesame oil
1/2 cup soy sauce
1/3 cup brown sugar
3 tablespoons of fresh ginger, chopped
2 cloves chopped garlic
2 hot peppers or jalapenos, chopped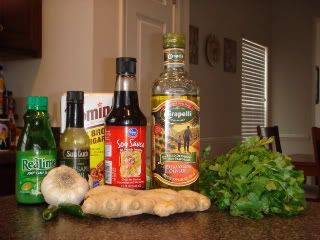 Mix together salad ingredients. Whisk together dressing ingredients and pour over salad. Mix with tongs or hands and serve on platter.
*Dressing keeps up to three days before serving*