This is hands down my favorite steak seasoning/marinade. I saw it on "30 Minute Meals" awhile ago and use it almost every time we have steak. The recipe is actually called "ginger flank steak" but I use it on any type of steak we buy. The side Rachel Ray made with it on the show was wasabi mashed potatoes, which I love, but Greg hates-so I usually make it with broccoli cole slaw, which I included the recipe for after the ginger steak recipe. Ginger Steak calls for, you guessed it, fresh ginger. :) Ginger is so inexpensive and easy to work with, if it's not available then you can buy it in a jar already peeled, grated, and ready to use. It's in the produce section next to jars of minced garlic, but I suggest using fresh ginger if possible. Also, if you can't find tamari, you could substitute soy sauce, but tamari does have a stronger flavor that I personally like much better.
Ingredients
* 2 inches fresh giner root, peeled & grated
* 1/2 cup tamari aged soy sauce.
* 2 limes, zested and juiced
* 3 tablespoons of vegetable oil
* 2 tablespoons of Montreal Steak Seasoning
* 2 pounds flank steak
1. Preheat a grill pan or outdoor grill to high
2. Combine ginger, tamari, lime juice, oil and grill seasoning in a large sealable plastic bag. Add meat to marinade and coat evenly.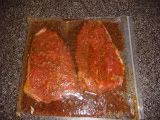 3. Let stand 10 minutes then grill meat 6 to 7 minutes on each side. This meat is great with a garnish of chopped scallion and/or cilantro.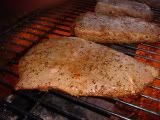 Ingredients
* 2 bags (3oz) Ramen Noodles in Oriental (other flavors will work, too)
* 3/4 stick of butter
* 1/4 cup of slivered almonds
* 2 bags (12oz) broccoli cole slaw (in the bagged salad section of the grocery store)
* 1/4 cup sunflower seeds
* chopped green onions, for garnish
Dressing Mix
* 3/4 cup canola oil
* 1/4 cup brown or white sugar
* 1/4 cup apple cide vinegar
* 1 ramen noodle season packet
Directions
Put the ramen noodles in a bag and crush them with a rolling pin while melting butter in a large skillet over low/medium heat. Add the crushed noodles and slivered almonds to the skillet and saute, stirring occasionally (keep temperature at low/medium heat). Meanwhile, whisk together all the dressing ingredients in a small bowl. Place the shredded broccoli into bowl and toss with the noodles, almonds and sunflower seeds. Pour dressing over salad and toss to coat. Garnish with chopped green onions.