WW Cheesy Macaroni. 5 points per serving
* 8 ounces uncooked macaroni (I used pasta wheels)
* 1 pound ground beef (I used Italian style ground turkey)
* 1 1/4 cups prechopped onion
* 2 garlic cloves, minced
* 1 (26-ounce) jar tomato-basil pasta sauce
* 1 cup reduced-fat shredded sharp Cheddar cheese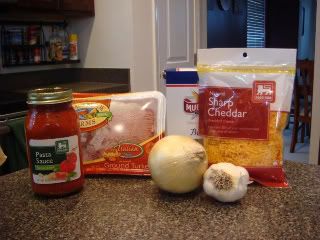 1. Cook pasta according to package directions. Drain and keep warm.
2. While pasta cooks, heat a large nonstick skillet over medium-high heat until hot. Add beef, onion, and garlic; saute 6 minutes or until beef is borned, stirring to crumble. Drain, if necessary, and return beef mixture to pan.
3. Add pasta sauce to beef mixture; cook 2 minutes or until hot. Stir in pasta and 1/2 cup cheese; cook 1 minute or until cheese melts. Remove from heat; sprinkle with remaining 1/2 cup cheese. Makes 8 servings.