This is one of Greg's favorite recipes. It's so easy to make.
Stuffed Chicken Rolls
* 1 package Stove Top stuffing mix for chicken
* 2 eggs, lightly beaten
* 6 small bonless skinless chicken breast halves, pounded to 1/4 inch thickness
* 1 can condensed cream of chicken soup
* 1/2 cup milk
* 1 tsp paprika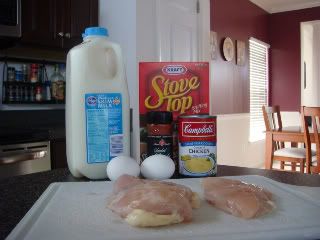 If you've never pounded out chicken before, it's very easy. You want to cover it with saran wrap, and use a chicken pounder (I have no idea if that's what that hammer looking thing is called) and start from the middle of the chicken and work your way around.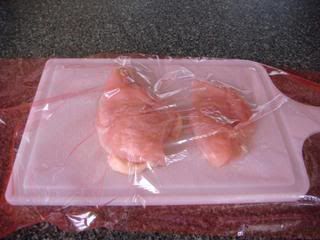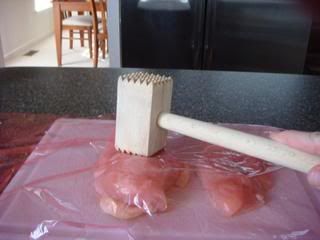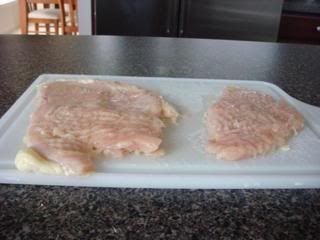 1. Combine stuffing mix and 1 cup of water. Let stand 5 minutes. Stir in eggs. Spread mixture over chicken, to whtin 1/2 inch of edges. Roll chicken from short end to enclose stuffing mixture.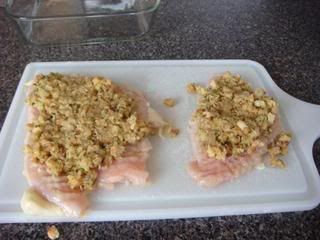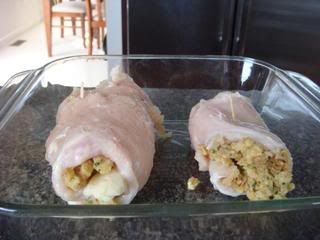 2. Place chicken rolls, seam down in 13x9-inch baking dish. Mix soup and milk; pour over hicken. Sprinkle with paprika. Bake at 400 degrees for 30 minutes.