Almost 2 weeks ago, we started a "Biggest Loser" competition at work. The girls divided into 2 teams of 4 and each week we weigh in and compete in "challenges". Right now, my team is winning and in order for us to keep winning, I've bought some Weight Watcher magazines/cookbooks and have been trying new healthy recipes on the weekends instead of eating out. Last weekend, I made Taco Soup which only has 4 points per serving and is so quick and easy to make.
Taco Soup
* 3/4 lb ground turkey
* 1 package of taco seasoning mix
* 1 can (15oz)of pinto beans (I also added a can of kidney beans), drained
* 1 can of corn, drained
* 2 cans of Rotel tomatoes (I used 1 mild and 1 hot)
* 2 cups of water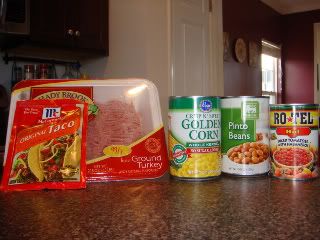 Brown beef. Add ingredients to beef, bring to a boil, reduce heat, cover and simmer for 10 minutes. I topped mine with low fat sour cream and 1/2 a 100 calorie pack of crushed doritos.