Weight Watchers Tortellini Salad. Makes 4 servings and has 4 points per serving.
Ingredients
* 1 (9-ounce) package fresh three-cheese tortellini
* 1 cup cherry tomatoes, halved
* 1 cup diced zucchini
* 1/2 cup fat-free Italian dressing
* 1/4 teaspoon salt
* 1/4 black pepper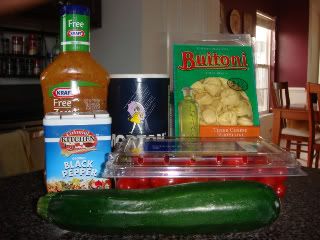 Cook tortellini according to package directions; drain in a colander over a bowl. Reserve 2 tablespoons pasta water. Combine tortellini, 2 tablespoons pasta water, tomatoes, and remaining ingredients in a large bowl, tossing gently to coat. Refrigerate until ready to eat.