I have been trying to eat healthier, so that means eating at home more. I've been trying a lot of new recipes, so I'll be posting them on here when they turn out good. The chicken we had tonight was fabulous! It was very easy and inexpensive to make and it was healthy. It's definiltely one of my favorite chicken recipes.
Ingredients
*6 gloves garlic, chopped
*salt and pepper
*1 teaspoon grated fresh ginger
*1 teaspoon ground cumin
*1/2 teaspoon paprika
*1/2 cup of white wine vinegar
*One 4-pound chicken, rinsed and patted dry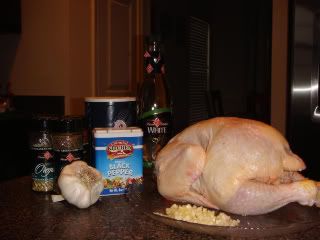 Directions
1. Using the flat side of a chef's kinfe, smear together the garlic and 2 tablespoons salt on a cutting board to form a paste; transfer to a small bowl. Stir in the oregano, ginger, cumin, 1 teaspoon pepper, and the paprika. Stir in the vinegar.
2. Slide your fingers between the chicken skin and the breast and loosen teh skin from the meat, working your way to the legs. Spread the marinade under and over the skin and inside teh cavity. Transfer to a gallon-size resealable plastic bag; refrigerate for at least 4 hours or overnight.
3. Preheatt he oven to 400 degrees. Remove the chicken from the bag and place breast side up on a rack set over a rimmed baking sheet. Roast until the juices run clear when the meat is pierced with a knife between teh breast and the wing, about 1 hour 15 minutes. Let reast for 10 minutes before carving.