This is my favorite weight watcher recipe!
Asian Beef Lettuce Wraps. 3 points
Ingredients
* 1 pound 93% lean ground beef
* 1/2 cup matchstick-cut carrots
* 2 tablespoons minced peeled fresh ginger
* 1/4 cup soy sauce
* 1 tablespoon rice vinegar
* 1/4 teaspoon dark sesame oil
* 1/8 teaspoon crushed red pepper
* 1/2 cup thinly sliced green onions
* 1/4 cup chopped fresh cilantro
* 8 iceberg lettuce leaves
* 1 cup thinly sliced cucumber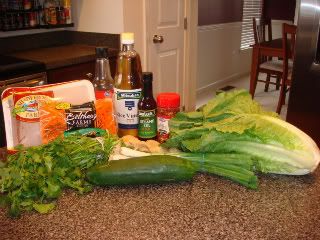 1. Heat a large nonstick skillet over medium-high heat until hot. Add beef, carrots, and ginger; saute 6 minutes or until beef is browned, stirring to crumble beef. Drain, if necessary, and return beef mixture to pan. Stir in soy sauce and next 3 ingredients; cook 1 minute.
2.Remove beef mixture from heat; stir in green onions and cilantro. Spoon beef filling evenly into center of each lettuce leaf; top evenly with sliced cucumber. Makes 4 servings, serving size is 2 wraps.