In trying to keep up with my goal to plan my menu for the week and shop efficiently, I've been looking through my recipes trying to decide what to make for next week. I finally picked out the recipes I wanted to make, a mix of new recipes and some tried and true classics. The boys and I are going to do our weekly grocery shopping tomorrow morning while Greg is at work for the first time. We normally do our grocery shopping on weekends, but we've been skipping the morning nap the past couple of days (which is why I haven't posted in a few days) and we need things to do in the morning to keep us busy. I'll post a recap of our week soon, but for now here's our menu for the week.

Friday
Salsa Chicken
Saturday
Stuffed Green Peppers
Sunday
Crispy Southwest Chicken Wraps
Monday
Leftovers

Tuesday
Creamy Italian Chicken
Wednesday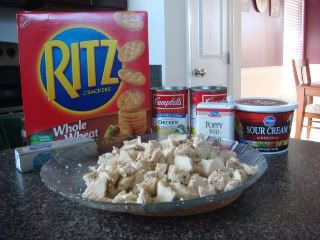 Thursday
Homemade Pizza (bbq chicken and tomato basil)
Friday
Crockpot Chicken and Dressing
It's been an exhausting week here, I'm hoping to post a recap of the week tomorrow or Friday. I hope everybody is having a great week.